About Alice Furlong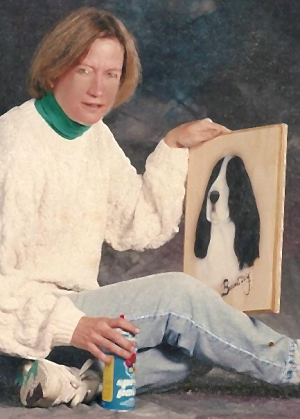 While working with the airbrush in Gatlinburg, TN, I was often asked to paint people's critters. I really enjoyed those projects. When my wonderful vet saw some of my animal work, she was convinced that I should be working dog shows. Like many people even today, back then I didn't know of shows other than Westminster. When the St. Bernard Club of America had their nationals close to me, my vet "bought" me a booth space and shoved me in. Even though it was outdoors and rainy, I met "dog people"! They were super!!! Not only did they buy my products, they helped hold down my tent (literally) in the lousy weather -- I was hooked! Not able to give up my regular job right away, I started doing more and more shows. Eventually I could give up my tourist gig!!!
After almost 30 years I still enjoy going to the shows and meeting people and their special friends.
I am fortunate to live in an old log cabin in the mountains of east Tennessee with my wonderful husband George. Although temporarily without a dog we share our home with two spoiled rescue cats. I am waiting for a dog to find me soon. It WILL be a rescue from the local animal shelter and am a real advocate of rescue.